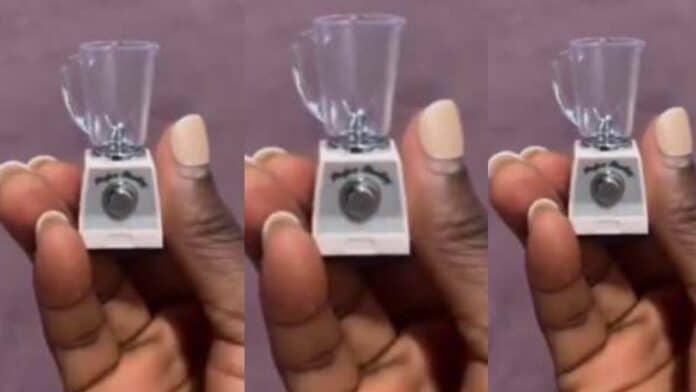 A Ghanaian woman recently found herself in an unexpected predicament after making an online purchase from Aliexpress.
She had ordered what she believed to be a functional blender for GH¢44, only to discover upon receiving it that it was, in fact, a toy blender.

The incident came to light when she shared her experience in a video posted by EDHUB, cautioning fellow netizens to exercise vigilance when shopping online.

In the video, the disappointed woman emphasised the importance of thoroughly checking product details and seller credibility to avoid such unfortunate situations.
Her story has reminded many netizens of the need for due diligence when making online purchases, as deceptive listings can sometimes lead to unexpected outcomes.

Below are some of the reactions that gathered in the comment section of the video.

@miki_djan said: Hehehehe… Distin…If e no happen u before u go underestimate am. Simple thing is that, dont be p3p3i…. And then do better check in the reviews and specifications. Else greed will get this to happen to you

@NUFUO_MU_IGP1 mentioned: I've been using AliExpress for some time, haven't experienced this before. She greedy cos Blender 44gh

@davmiles8 stated: If de price no shock u, de item go shock u. A whole blender 44gh? Sia that's what you get for cheap things

@gr8_alexx indicated: Sometimes you have to read details before you buy oo. By now dem rep say the height be 2cm wey she no see
A Ghanaian woman bought a blender for 44 cedis online from Aliexpress, and this is what she got. pic.twitter.com/OUfVCmP9Zj— EDHUB?? (@eddie_wrt) September 18, 2023